Disclosure: This is not a sponsored post. All views presented here are honest and my own. However, some of the links in this review are referral links. That means I'll receive $7 and you'll receive $5 from Flash Food (after your first purchase of at least $0.50). Thanks for your support!
How to save a bundle on groceries (and help our planet)
If you're like me, you're always on the lookout for easy ways to save money on groceries. After all, food is one of the big three expenses in our lives (and it's typically the easiest of the three to control).
So… what if I told you there's a fun and easy way to reduce your food costs and help our planet? It's called Flashfood, and it's amazing!
What is Flashfood?
Flashfood is an app that allows you to find and purchase groceries that are nearing their best-before dates—at steep discounts (50% off or more).
By partnering with Flashfood, grocery retailers can recover some of their costs and reduce their carbon footprint. And by shopping through Flashfood, you save money while also helping the planet.
How much can I save?
In my experience, you'll always save at least 50% on groceries purchased through Flashfood. In the last 30 days since I started using the app, this is what I've purchased and saved:
| Item | Regular price | Flashfood price | Savings |
| --- | --- | --- | --- |
| Schneiders bacon | $5.44 | $2.44 | 55% |
| Organic strawberries | $2.97 | $0.99 | 67% |
| 4-pack of zucchini | $3.98 | $0.99 | 76% |
| 5-pack of sweet corn | $3.98 | $1.47 | 63% |
| Chayote squash | $2.97 | $0.80 | 73% |
| 4-pack of sweet bell peppers | $5.48 | $2.49 | 55% |
Total savings
The total for the above groceries would have been $24.82 at regular price. I paid only $9.13 using the Flashfood app! That's an average savings of 63%!
Getting started
Are you intrigued and ready to start saving on your groceries? Great—let's start by downloading and installing the app:
Download and install the Flashfood app.

To receive your $5 credit, be sure to

use my referral link! (There's no referral code that you can enter later.) This will take you to your app store where you can then download and install the app. (Note: you'll receive your $5 referral credit within 24 hours after

your first purchase of $0.50 or more.)

Open the app and create an account.

Tap the profile icon at the top left of the screen then go to 'Payments' and add a credit card. (Note: Flashfood purchases do not code as 'groceries' on my Scotia Momentum Visa. You may want to use a different credit card that earns you a higher reward for non-groceries. I now only use my Rogers World Elite Mastercard for Flash Food purchases.)

Search for stores in your area.

On the map, click on the store you'd like to shop at.

Browse the deals.

Don't make any purchases yet! Since inventory can change quickly, I recommend not making Flashfood purchases until you're actually in the store.
The in-store pickup process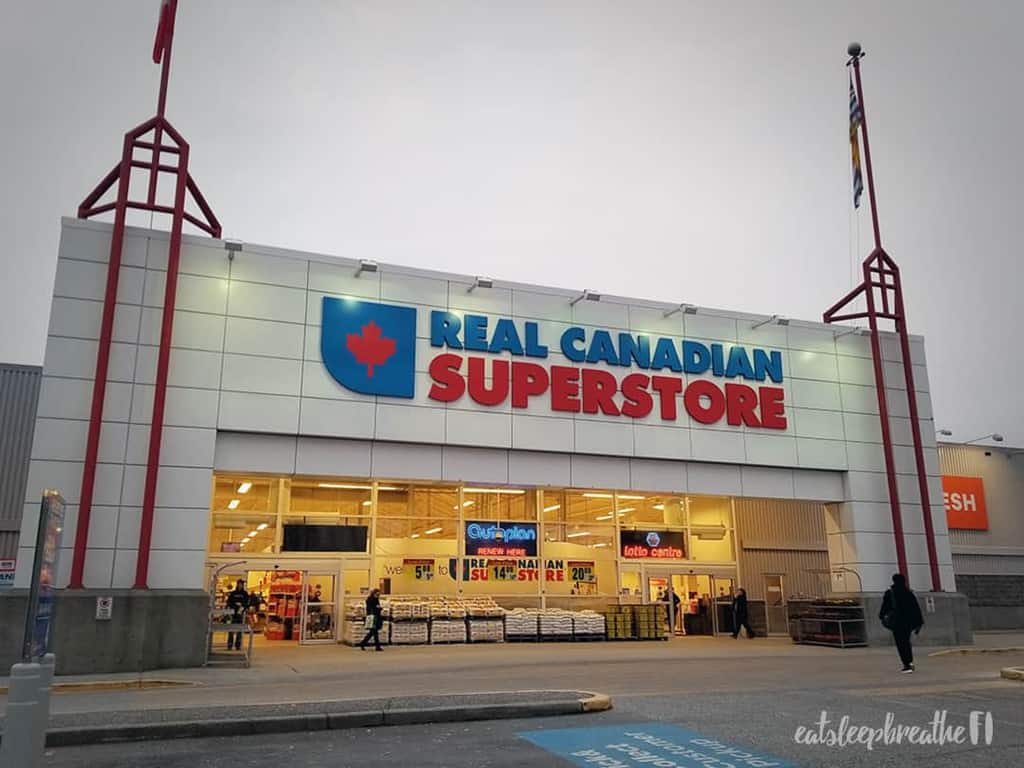 The Flashfood app doesn't offer much in the way of details for the in-store pickup process. Because of this, it was a little nerve-wracking for me when I did my first pick up: Where do I go? Do I pay for this stuff at the cashier? Do they need to scan it? How do they know I've paid?
I've now experienced the process a few times and can confidently say it's no big deal! I want to save you from the stress I went through, so I wrote out a step-by-step guide to the Flashfood in-store pickup process:
A step-by-step guide to the Flashfood in-store pickup process
Note: Flashfood is still not fully set up at all stores, so the process may be slightly different at your store. I'll do my best to update this page as soon as I receive new info.*
Step 1: Locate the Flashfood fridge/shelf
In my experience, this is usually located at the front of the store.
Look around the Customer Service desk or the online order pick-up area.
You'll find a large stand-up fridge with Flashfood signage on it. At some stores, the fridge doors are locked, so you'll have to ask someone at Customer Service to unlock them for you.
Next to the fridge, you'll find open shelves containing the non-refrigerated Flashfood items.
Step 2: Select your items and add them to your cart (both of them)!
Log into the store wifi (or use your mobile data) then open up the Flashfood app to see what's available to purchase.

Look in the Flashfood fridge/shelf for the item(s) you're interested in purchasing. This part may differ, depending on how your store is set up.
Take a look at the item and determine if it's worth purchasing. If so, go into your app and select the quantity you'd like to purchase, then add it to your cart (both your actual physical shopping cart and the one in the app!)
Repeat the steps above for any other items you're interested in.
Note: if you find items in the fridge/on the shelves that aren't shown in your app, it means the items have already been purchased by someone else. They just haven't picked them up yet.
*Thank you to Shaidah, Jenny, my mother-in-law, and my sister for informing me of the recent Flashfood improvements in their stores!
Step 2: Pay for your items
Once you're done shopping, go to the 'Shopping Cart' in your app. Review your purchases and make sure it matches what's in your physical shopping cart.

If it's all correct, hit 'Checkout'.

Flashfood will charge the credit card that you linked in the app.
Step 3: Checkout with Customer Service
Version A—if your store does have a Flashfood section
This is the way things work at most stores now… but see Version B below if your store isn't fully set-up yet.
Go to Customer Service and tell the associate you have Flashfood items.
They'll ask for your name then look you up on their Flashfood device.
Once they visually verify your purchase, you're good to go and can exit the store.
Version B—if your store doesn't have a Flashfood section
If you have non-Flashfood groceries to purchase, go through the checkout line as usual. (But keep your Flashfood items separate.)

Show the cashier your Flashfood items. Tell them the items are paid for and you just need to take them to Customer Service. (Note: The cashiers never seem to know about Flashfood. But as soon as I mention customer service, they're always happy to let my Flashfood items pass through unpaid.)

Finish paying for your regular groceries, then proceed to the customer service desk with your Flashfood items.

Pull up the Flashfood app and tap the profile icon at the top left of the screen. Go to 'Receipts' and pull up the receipt for your purchase. (Apparently, the iPhone app may not have this option. In this case, the associate will need to look you up in their system.)

Show the customer service associate your items and the receipt. The associate will then do one of two things:
Approve your purchase and wave you on.

Grab their Flashfood device so they can mark your pickup as complete.
You're now free and clear to exit the store!
FAQs
Below are the questions I had before I started using Flashfood. Feel free to leave a comment if you have other questions, and I'll add them to this section.
Will the groceries be moldy or spoiled?
Not even close! In my experience, Flash Food items are fresh and of good quality. Most are very close to their best-before dates, but some are still quite far from them.
What types of groceries are on offer through Flashfood?
It could be any food item that the store sells: produce, meat, dairy, bread, snacks, etc. The offers are always changing, so it's worth checking the app often (and definitely every time you're in-store)!
Can I go to any store to purchase Flashfood items?
No, you can only go to the stores that are shown in your app.
Which stores are part of the program?
All ten provinces and one territory have at least one store participating in Flashfood. In the Vancouver area, only Real Canadian Superstores are currently participating in Flashfood. Check this page to see what's available in your area.
Can Americans use Flashfood too?
Yes—if you live in Wisconsin! Hopefully, there'll be more Flashfood partners in the US soon.
Is Flash Food legit?
I know—it seems too good to be true! But Flashfood is definitely not a scam. It's a fun and legitimate way to save money on your groceries.
Summary
Flashfood is a fantastic new way for Canadians (and Wisconsinites) to save big on groceries and help alleviate the problem of food waste. The items on offer are good quality and still very fresh.
The app is simple and easy to use, and the in-store purchase/pickup process seems to always be improving—making it much quicker to shop for Flashfood items.
If you're interested in trying Flashfood, here's my $5 sign-up offer again:
$5 sign-up offer!
If you choose to sign up for Flashfood through one of my links, you'll receive a $5 credit and I'll receive a $7 credit (upon your first purchase of at least $0.50).
To get your $5 credit, you must click through and install the app using my referral link. (There's no referral code that you can enter later.)
Once you've registered, you can share your own referral link and also earn $7 per referral!
Any questions?
If you have questions about Flashfood, leave me a comment below. Also, if you know of other services like Flashfood (in or outside of Canada) please tell us about it in the comments below!
Other excellent Flashfood reviews
Sharing is caring…
If you liked this article and want more content like this, please support this blog by sharing it! Not only does it help spread the FIRE, but it lets me know what content you find most useful. (Which encourages me to write more of it!) Thanks for your support!